AV GROUP GARNERS ATLANTIC CANADA BEST EMPLOYER AWARD CAPPING A YEAR OF MILESTONES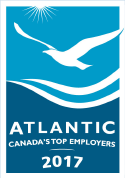 India-based Aditya Birla Group is pleased to announce that its New Brunswick dissolving grade pulp mills, Nackawic and Atholville, have received the Atlantic Canada Top Employer award for 2016. Building on a strong brand and successful reputation in Asia, Aditya Birla Group has invested significantly in its New Brunswick operations and in its people. The company was recently recognized as the top Foreign Owned Exporter at the Opportunities New Brunswick event held in Moncton in June of 2017.
Michael O'Blenis, CEO of the Nackawic and Atholville mills, said that a blend of strategic capital investment and strong focus on talent acquisition and people development has provided stability to its manufacturing operations and strengthened its sustainability vision in a globally competitive market.
Mr. O'Blenis gives credit to his Human Resources and Operational Excellence teams for leading the drive toward World Class Manufacturing principles. Positioning the company as a preferred employer in New Brunswick is a shared commitment of his senior leadership team.
The company predicts a significant retirement bubble in the next 5-10 years and will partner with community groups and academic institutions to attract replacement workers to address the exodus. Vice President of Human Resources for Aditya Birla Group's pulp operations in Canada and Sweden, Kathryn Edwards, estimates that nearly 180 salaried and hourly positions will become vacant due to retirement at both mills.
"It is important that we present a value proposition to current and future employees which demonstrates that we are 100% committed to the well being of our people, our communities, our customers, and our parent company," Ms. Edwards said. "We believe in our company values and we are committed to growing our high value export business here in New Brunswick to attract our young university and college graduates, our local skilled tradesmen, and workers returning from the oil patch."
Mr. O'Blenis believes that the company is well positioned to increase its current and future economic contribution to the Province of New Brunswick with its recent commitment of $125 million in new capital investments over the next 5 years.